LEGO® KidsFest Indianapolis – Tickets Giveaway!

What: LEGO® KIDSFEST Indianapolis
Where: Indianapolis Convention Center
When: November 7 – 9, 2014
If you are a LEGO®-loving family, like us, you'll be interested in this event! This is the FIRST year the LEGO® KIDSFEST will tour in Indianapolis, bringing all of the creative hands-on, minds-on fun of LEGO® building and experiences together in this three acre activity-and entertainment-packed family event. Tickets will probably sell out quickly, so early purchasing is encouraged. Enter to win TWO tickets for November 7 (opening day) HERE to try to win some tickets! Or be safe and order some now!

What is there to look forward to? LEGO® KidsFest is for children of all ages and builders of all skills and interests. The fest is spread across three acres of hands-on educational fun! Among the many LEGO® attractions, families will find (Please note that some activities are subject to change):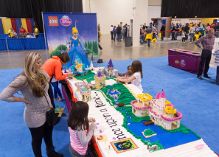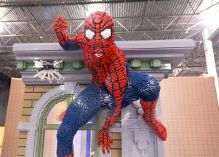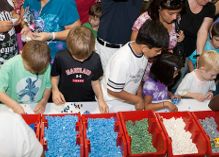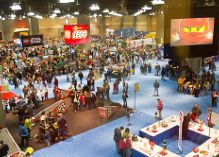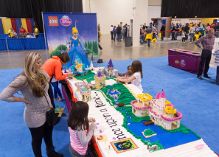 Fest Activities
• LEGO Model Museum: walk among the dozens of life-sized models made from LEGO bricks
• LEGO Master Builder Academy: learn new building skills from the crew who get paid to play
• Race Ramps: build a custom car, then race it down the ramp against friends and family
• Creation Nation: construct a creation to add to a custom map of the U.S.
• Construction Zone: enjoy a creative build, play, and display area
• LEGO® DUPLO®: explore imagination through building for the younger set
• LEGO® Retail: purchase LEGO merchandise and official KidsFest tour goods
• Big Brick Pile: build and have fun in a gigantic pile full of LEGO bricks for creative play and enjoyment
• Monochromatic Builds: construct buildings and more using bricks of a single color to foster group creativity
• Disney® Princess: Discover the world of Disney Princess through LEGO bricks.
• LEGO® Friends: build for the five empowered friends from Heartlake City
• LEGO® Ninjago®: spin your way to being a Spinjitzu member
• LEGO® Mindstorms: play with programmed robots and snakes
• LEGO® City: use your imagination to create buildings and vehicles to add to the urban diorama
And MUCH more!
"Any family who likes to be inspired, get hands-on and have fun together won't want to miss LEGO® KidsFest," said Vince Rubino, LEGO® Events Manager. "We're bringing so many activities for families in the Indianapolis region to test and showcase their creativity and building skills in what is sure to be a family event to remember."
Based on sell-out attendance in previous markets, advance ticket purchase is strongly encouraged. Five sessions – all identical – are available for the Nov. 7 – 9 tour stop. LEGO KidsFest tickets are $22 for adults and $20 for children and can be purchased online at www.legokidsfest.com/indianapolis/tickets.html.
The LEGO® KidsFest 2014 tour stops included: Raleigh, NC (Feb. 28 – March 2), Novi, MI (April 25 – 27), Calgary, AB, Canada (May 16 – 18), Atlanta, GA (June 27 – 29), Dallas, TX (Aug. 29 – 31), Richmond, VA (Oct. 3 – 5) in addition to ours in Indianapolis, IN (Nov. 7 – 9).
On tour since 2009, previous LEGO KidsFest tour stops have included major cities such as Chicago, Boston, San Jose, Cleveland, Richmond, Raleigh and more. Tickets generally sell out and attendance averages 27,000-30,000 visitors at each venue.
Fun LEGO® Facts
• More than 400 billion LEGO® bricks have been produced since 1949.
• The LEGO® minifigure represents the world's largest population of people! More than four billion minifigures have been produced in the last 30 years. This is almost 12 times the population of the United States!
• LEGO® minifigures are out of this world, literally. The two Mars Rovers have an image of the LEGO minifigure etched into their front grill.
• Approximately seven LEGO® sets are sold each second.
• There are about 62 LEGO® bricks for every one of the world's six billion inhabitants.
• Laid end to end, the number of LEGO® bricks sold in a year would reach more than five times around the world.
• There are 915 million ways to combine six eight-stud LEGO® bricks.
• Children around the world spend five billion hours a year playing with LEGO® bricks.
• With a production of about 306 million tires produced a year, the LEGO® group is the largest producer of tires in the world.
• LEGO® is the contraction of two Danish words, "leg godt" which means "play well".
• There are about 62 LEGO® bricks for every one of the world's six billion inhabitants.
• 19 billion LEGO® elements are produced every year. 2.16 million LEGO elements are molded every hour, or 36,000 per minute.
So, what are you waiting for?! Enter to win TWO tickets for November 7 (opening day) HERE to try to win some tickets! Or be safe and order some now!
God bless,
Jenn
PS Hope to see you there! 😀